Case Study Workshop for the "University-business cooperation in Europe" Project at European Commission in Brussels, Belgium
June 10, 2016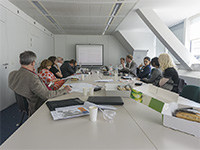 On the 10th of June the Science-to-Business Marketing Research Centre as the leading project partner for the study on University-business cooperation in Europe: drivers, challenges, and opportunities (EAC/10/2015) by the DG Education & Culture of the European Commission successfully conducted the workshop in Brussels, Belgium.

During the meeting at the European Commission in Brussels Prof. Dr. Thomas Baaken, in his role as Director of the S2BMRC and Prof. Dr. Todd Davey, in his role as Project Director presented an overview on the actual state of the project. The workshop was devoted to the selection of the good practice case studies in European UBC. From out 150 collected cases 80 case study proposals were presented by the consortium during the workshop. As a result a preliminary list of 50 case studies was decided together with the European Commission.

The project team was represented by 7 team members coming from 5 different countries.


Prof. Dr. Thomas Baaken (S2BMRC), Director


Dr. Victoria Galan-Muros (Technopolis): 16 case studies – North European Region


Prof. Dr. Todd Davey (S2BMRC) – 16 case studies: West European Region


Balzhan Orazbayeva (S2BMRC) – 16 case studies: South European Region


Dr. Samo Pavlin (University of Ljubljana) – 16 case studies: Eastern European Region


Dr. Thorsten Kliewe (UIIN) – 16 case studies: Global case studies