Balzhan Orazbayeva successfully presents her paper "Intercultural Knowledge Transfer in Teams: Findings based on a Case Study" at the 20th World Multi-Conference on Systemics, Cybernetics and Informatics: WMSCI 2016 in Orlando, Florida, USA
July 07, 2016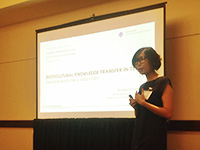 After having published the paper on "Intercultural Knowledge Transfer in Teams: Findings based on a Case Study", written together with Prof. Thomas Baaken and Arno Meerman, Balzhan Orazbayeva from the S2BMRC availed herself of the opportunity to present the findings at a Special Track on "Academic Globalization and Inter-Cultural Communication" at the 20th World Multi-Conference on Systemics, Cybernetics and Informatics: WMSCI 2016 in Orlando, Florida, USA.

For more information click here.

To international attendees coming from interdisciplinary fields, Balzhan presented a case study on intercultural knowledge transfer in the Science-to-Business Marketing Research Centre, being unique for the high interculturality of its research team, which is moreover able to benefit from it not only in transferring knowledge, but also in creating new one.

Balzhan Orazbayeva also was invited speaker in the session for "Inter-Disciplinary Communication" in the conference (8.7.2016). She presented a specific Teaching & Learning Concept, developed in the Science-to-Business Marketing Research Centre and implemented in Münster School of Business of the University of Applied Sciences, for problem-based learning projects via university-business cooperation by involving Industry partners in projects of teaching.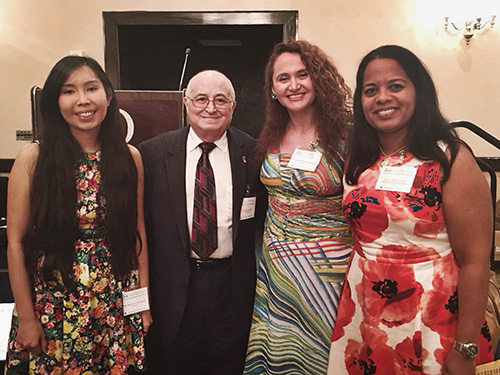 From left to right:Balzhan Orazbayeva (S2BMRC, Germany), Nagib Callaos (Chair of the Conference, President of the IIIS, USA), Fernanda Costa dos Santos Wüthrich (Lecturer at University oAS HTW Chur, Switzerland), Remzie Shanini-Hoxhaj (Director of Media Institute, University of Prishtina "Hasan Prishtina", Kosovo)